The United States Forest Service (USFS) plans to log 9,800 acres (15.3 square miles) across 256 stands in the Jellico Mountain area of Daniel Boone National Forest in Whitley and McCreary Counties in southern Kentucky.
The Jellico Project area is bounded by the following roads and landmarks:
North: KY-92 and KY-628 (Wolf Creek Road)
East: KY-2996 (Wolf Creek River Road) and US Highway 25W
South: Kentucky-Tennessee border
West: KY-1470 (Osborn Creek Road) and CR-1127 (Little Rock Creek Road)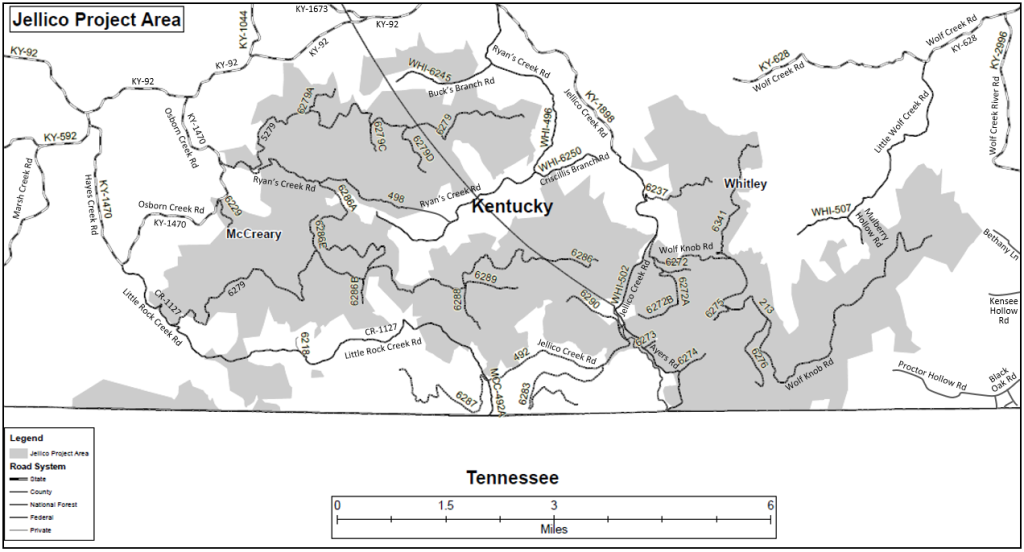 Why 3D?
Two-dimensional maps are useful, but they can be misleading when trying to visualize the effect of logging on steep, mountainous terrain like the Jellico Mountains. A logging tract nearby on the map might not even be visible because it's on the other side of a mountain ridge, whereas a more distant logging tract might loom prominently in a resident's view. Thus, we have created a comprehensive set of detailed three-dimensional maps that bring to life the large, flat USFS project area map.
Disclaimer
The 3D maps are visual approximations for illustrative purposes only.
Be sure to visit the U.S. Forest Service website for official maps on the Jellico Vegetation Management project.
We created the 3D maps using the MapRight app. Mountain view maps are from the perspective of a drone at about 100-500 feet elevation. Sky view maps are from about 500-5000 feet elevation. Actual view from the ground will be different and could be obscured by trees, buildings, and mountains.
Yellow private property lines and landowner names are typically provided by the local Property Valuation Administrator (PVA).
Logging areas were drawn by hand from USFS maps of the Jellico Vegetation Management Project #63037 and are generally accurate to within +/- 5%.
We know from personal experience the PVA maps and USFS maps do not always match actual surveyed boundaries. Thus, the map may show proposed logging areas spilling over onto private property. Homeowners bordering proposed logging areas should strongly consider having their property officially surveyed to establish legal boundaries before the logging begins.
Please contact us if you are a local resident who wishes to see more 3D maps around your property.

Map Index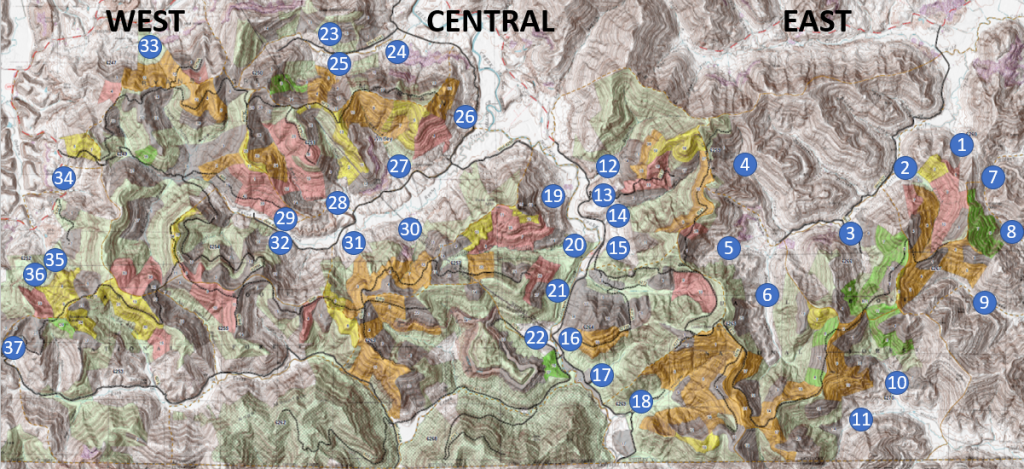 East Section – Little Wolf Creek, Kensee Hollow, Black Oak
Central Section – Jellico Creek, Bucks Branch, Ryans Creek
West Section – KY92, Osborn Creek, Hayes Creek, Little Rock Creek
Maps are complete for the populated areas. Contact us if you'd like to see a map not shown here.

East Section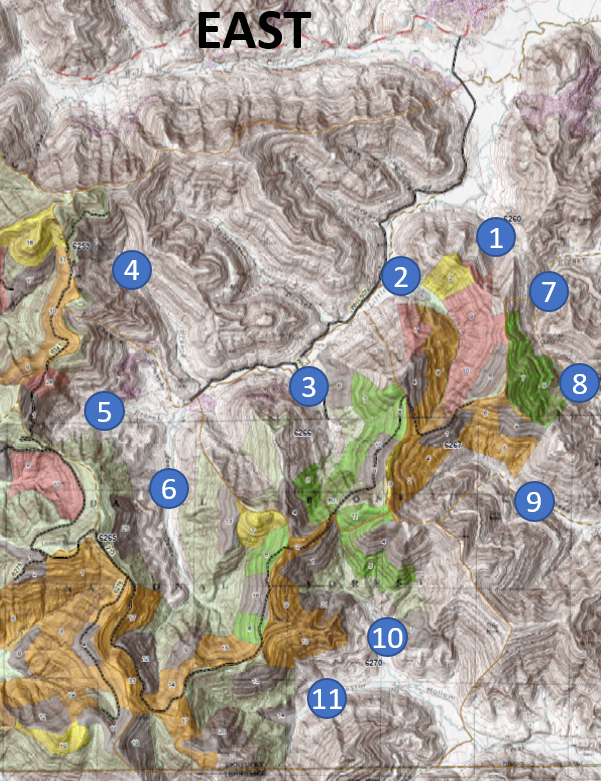 Little Wolf Creek Road:
1. Broad Valley
2. Bunch Branch (Emby Moses Rd)
3. Mulberry Branch (Mulberry Hollow Rd)
4. Davenport Branch
5. Perry Branch
6. Jackson Creek (Glen Rountree Rd)
Wolf Creek River Road:
7. Ridner Branch
Kensee Hollow Road:
8. Adams Branch (Bethany Ln & McKayla Cir)
9. Pigeon Roost
Black Oak Road:
10. Proctor Hollow North (Proctor Hollow Rd)
11. Proctor Hollow South (Proctor Hollow Rd)

Central Section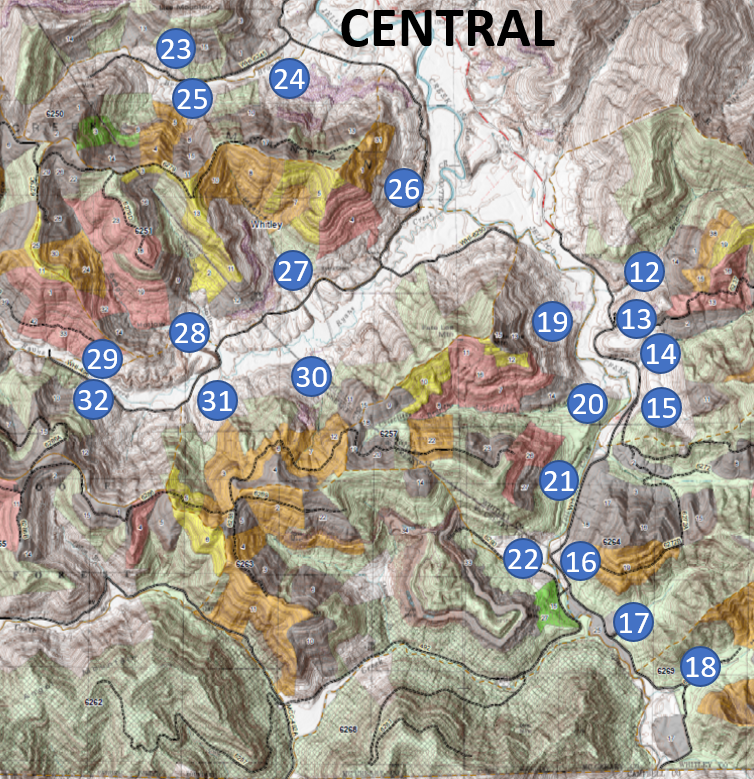 Jellico Creek Road – East Side:
Jellico Valley Overview
12. Bailey Branch (addresses 3500-4000)
13. Ross Branch (4000-4500)
14. Jellico Wash East 1 (4500-5300)
15. Jellico Wash East 2 (5300-5800)
16. NFSR 6290 Facing East (5900)
17. Jellico Wash East 3 (6000-7000)
18. NFSR 6274 (7000-8500)
Jellico Creek Road – West Side:
19. Bailey Branch Facing West (addresses 4000-4500)
20. Criscillis Branch (4500-5500)
21. Jellico Wash 3 Facing West (5000-6000)
22. NFSR 6290 (6000-7000)
Bucks Branch Road:
Overview
23. North Side
24. South Side East Entrance
25. South Side West Valley Head
Ryans Creek Road – North Side:
Overview
26. Entrance (addresses 1500-3000)
27. Wash 1 (3000-4500)
28. Wash 2 (4000-5000)
29. Valley Head
Ryans Creek Road – South Side:
30. Wash 1 (3500-4300)
31. Mid-Valley
32. Valley Head

West Section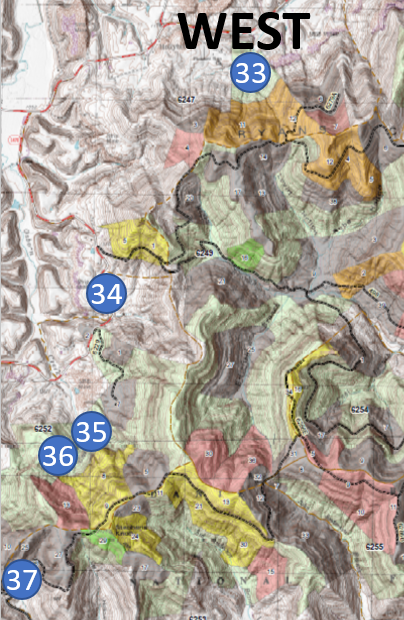 Kentucky-92:
33. KY-92 (near KY-1044)
Osborn Creek Road:
34. North End (addresses 1000-1800)
35. Midway Facing East (1800-2700)
36. Midway Facing Southeast (2000-3000)
Hayes Creek:
37. Hayes Creek (Little Rock Creek Rd, Judy Redden Ln, Dupey Rd)