The U.S. Forest Service plans to log 9,798 acres in 256 stands using five main treatment methods, represented by colored areas on the map.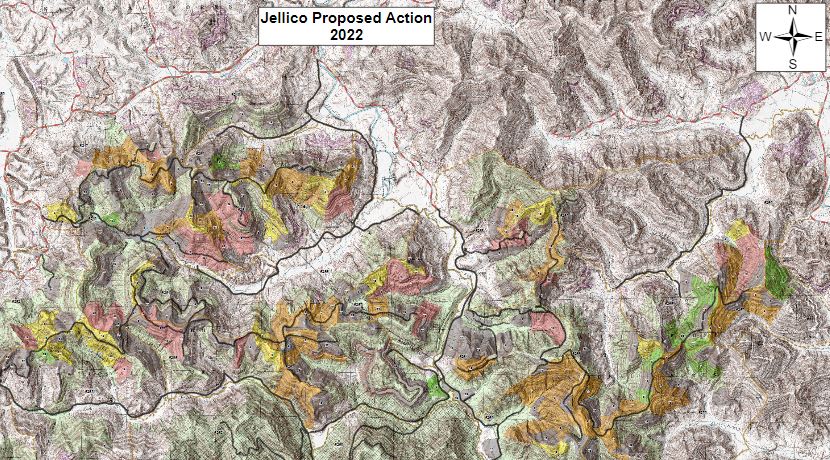 To better understand these treatments, here are some terms used:
BA – basal area per acre; the cross-sectional area of all trees at 4.5 feet above the ground, summed and divided by the number of acres (more info)
DBH – diameter of a tree at breast height, 4.5 feet above the ground
leave trees – trees left standing after logging. Desired leave tree species in priority order: 1) white oak or chestnut oak, 2) hickory, 3) yellow poplar (for commercial thinning), and 4) other hardwoods, except red maple. Leave trees selected for retention are long-lived species that are dominant and vigorous with healthy crowns and a minimum 14-inch DBH. Where no such tree is present, or no desired leave tree species are available, select the healthiest tree of the most desired species with the largest DBH.
IRT – immediate roost tree, as defined in the Forest Plan (page A-16). All live IRTs count towards the minimum BA requirement. Some overlap may occur between IRTs and desired leave trees (e.g. shagbark hickory).
SESZ – scoured ephemeral stream zone; the area within 25 feet on either side of a definable channel of water flow in which surface waterways converge with enough energy to remove soil, organic matter, and leaf litter annually
snags – dead trees
Following are the five main treatment and harvest methods planned for Jellico Mountain:
Clearcut
936 ACRES IN 28 STANDS (YELLOW)
Summary: Cut all trees and regenerate the stand
Reserves: IRTs, snags, and minimum BA15 in SESZ
Result: Even-aged stand with scattered IRTs and snags (when present) and trees along streams
Two Aged Shelterwood
1,427 ACRES IN 33 STANDS (PINK)
Summary: Also called "clear cut with reserves" where 10 to 20 trees are left standing per acre. This is done to achieve two age classes in the forest.
Reserves: Approximately 10 to 20 trees are left standing per acre. This can include IRTs, minimum BA15 in SESZ, and BA10-20 of dominant or codominant trees
Result: Even-aged stand with shelterwood trees designed to provide structure and mast for wildlife
Deferment Harvest
2,462 ACRES IN 46 STANDS (ORANGE)
Summary: Also called "clear cut with reserves" where 20 to 40 trees are left standing per acre. This is a two-stage harvest cutting most trees while leaving dominant and codominant trees. 10-15 years after the initial harvest, remove all originally reserved trees except IRTs
Reserves: IRTs, minimum BA15 in SESZ, and BA20-40 of dominant or codominant trees
Result: 10 to 15-year-old, even-aged stand
Midstory Removal
524 ACRES IN 15 STANDS (GREEN)
Summary: Cut or treat with herbicide the trees in the midstory that are preventing sunlight from reaching desired regeneration on the forest floor
Reserves: all other trees
Result: increased growth of desired regeneration
Commercial Thinning
4,449 ACRES IN 134 STANDS (GREY)
Summary: Cut suppressed, intermediate, and a few co-dominant trees
Reserves: BA50-70 of dominant and co-dominant, vigorous, and healthy trees
Result: Two-aged stand with overstory trees and a regenerating understory